Abdominal Cuts Review
Abdominal Cuts is designed to help you lose weight; particularly in the abdominal area. Made by Revolution Lifestyle, this diet pill contains "a wide array of healthy oils that assist with body-fat reduction…healthy metabolism, antioxidant supply and anti-inflammatory assistance."
Abdominal Cuts takes a different approach than the leading diet pill Apidextra. However, both products are supposed to ultimately help users lose weight.
My goal is to see how Abdominal Cuts compares to Apidextra; in terms of safety, effectiveness, and value. Can Abdominal Cuts really help you lose weight? Does it rank with the best diet pills?
You can get answers to these questions by reading this review or watching the video review.
Abdominal Cuts Video Review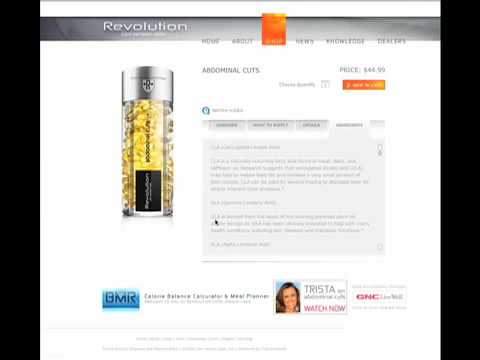 The Formula
These are the ingredients and doses listed on the supplement label for Abdominal Cuts:
• Safflower Oil (80% CLA) – 500 mg
• Omega 3 Fish Oil (EPA & DHA) – 150 mg
• Borage Oil (20% GLA) – 75 mg
• Flax Seed Oil (50% ALA) – 50 mg
• Sesame Seed Oil – 25 mg
• Vitamin E – 6.7 mg
Conjugated Linoleic Acid (CLA) – May help burn fat, preserve muscle, and reduce cholesterol.
Eicosapentaenoic Acid (EPA) – Commonly used in the treatment of depression, high blood pressure, and diabetes. Although it may not directly influence weight loss, it helps treat health conditions experienced by people who are overweight.
Docosahexaenoic Acid (DHA) – Studies show that it may help promote weight loss; especially when combined with CLA.
Gamma Linolenic Acid (GLA) – Has anti-inflammatory properties and has been used to treat arthritis, diabetes, allergies, and high blood pressure. However, it is not proven to promote weight loss.
Alpha-Linolenic Acid (ALA) – Some studies show that it promotes weight loss, but in others it has led to weight gain.
Sesame Oil – High in antioxidants. It may be able to help burn fat and prevent muscle from being broken down as a result of dieting.
Vitamin E – An antioxidant that helps regulate cholesterol and fortify cell membranes. It may help preserve muscles during weight loss.
Clinical Research
The official website mentions clinical studies, but it doesn't specify studies are being referred to. I was able to find several studies on CLA, EPA, and DHA. However, researchers in one of the studies I reviewed said that these ingredients have only been proven to reduce obesity in animals. Their effects on humans are limited.
Sesame oil has also been tested and proven to promote fat burning in animals; but it has not been tested on humans. GLA is not supported by weight loss studies, and studies of ALA are not conclusive.
In contrast, Apidextra has four ingredients which have been clinically tested and proven to help burn fat and suppress appetite. I rarely see the ingredients in Abdominal Cuts used, but Apidextra's ingredients are very popular because they're known for being effective.
Side Effects
Because it has all-natural, healthy oils in its formula, Abdominal Cuts should be a safe product. However, I did find user reports of side effects, which seemed to be caused by the large doses used.
Common side effects mentioned by users are:
• Constipation
• Loose Stools
• Gas
• Upset Stomach
These side effects were not experienced by most Abdominal Cuts users; and most users who reported them said the side effects eventually went away. Apidextra is also known for being safe; and serious, long-lasting side effects are rarely reported.
Customer Ratings
Abdominal Cuts received an average rating of 3.6 stars out of 5, from more than 140 customer reviews that I found online. Seventy-six percent of the people who rated it said they would recommend it to others.
This rating is above average; however, it's not the rating I see top-rated diet pills like Apidextra receive.
Mostly, users gave Abdominal Cuts low ratings because it was ineffective or worked slowly. They rated it positively because it didn't cause side effects and was effective.
Suggested Use
If you're first starting to use Abdominal Cuts, you probably shouldn't take the full recommended dose, which is 6-9 capsules a day.
I suggest taking 1 capsule with each of your three meals for 3 capsules a day. Do this for a few days and then gradually increase your doses until you're taking 2-3 capsules, with each meal.
As is the case with all diet pills, including Apidextra, you'll get the best results from Abdominal Cuts if you eat a healthy diet and exercise regularly while using it. Weight loss experts also recommend cutting up to 500 calories from your daily diet.
Buying Abdominal Cuts
If you buy Abdominal Cuts from the official website, one bottle (120 capsules) costs $39.99. The company does ship internationally, but they don't offer a money back guarantee.
If you buy Abdominal Cuts from GNC.com, the price is the same, but they do have a return policy. Unfortunately, it only covers products that have been unopened and unused.
By taking 6-9 capsules of Abdominal Cuts a day, each bottle will last for 13-20 days; which means you'll need at least 1.5 bottles to get a month supply ($59.98). This makes Abdominal Cuts pricier than most diet pills I've seen. For example, a month supply of Apidextra costs $49.95.
Should You Buy Abdominal Cuts?
I like the idea of using healthy oils to promote weight loss. Unfortunately, none of the oils in Abdominal Cuts have been clinically proven to boost metabolism, reduce hunger, and burn fat in humans. This being the case, I don't recommend buying Abdominal Cuts because I don't think you'll get your money's worth from it.
A better option that I do recommend is Apidextra. It has clinically proven, safe ingredients; a 90-day 100% money back guarantee; and a lower price.
If you've tried Abdominal Cuts, feel free to share your opinion of it or your experience below.
37 Abdominal Cuts Reviews