Dexatrim Max Review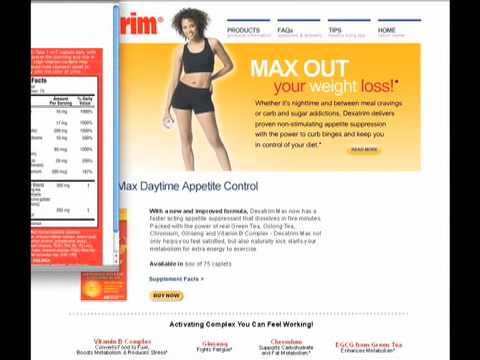 Ingredients
Thiamin (15 mg)
Riboflavin (17 mg)
Niacin (200 mg)
Vitamin B6 (10 mg)
Vitamin B12 (60 mcg)
Pantothenic Acid (25 mg)
Chromium (200 mcg)
Proprietary Blend (300 mg)
Ginseng (250 mg)
Chromium – While some believe it helps in blood sugar regulation, it has yet to be shown in studies that it helps with weight loss.
Green Tea – A proven weight loss ingredients, green tea helps by boosting your metabolism.
Oolong Tea – Has yet to be proven in clinical studies to help with weight loss.
Ginseng – The jury is still as to the effectiveness of ginseng as a weight loss supplement. Don't count on it doing much.
The other ingredients are good vitamins and such for your overall health, but have not been proven to help you lose weight at all.
Dexatrim Max has one solid ingredient, green tea. You'll notice that the only ingredients that are in the proprietary blend are green tea and oolong tea. That blend has 300 mg to share among the two. Now why would you bother using a proprietary blend for only two ingredients unless it would be obvious if they disclosed it that there's not enough green tea to be effective? Seems kind of obvious to me. There's likely not enough green tea included to be very effective.
Dexatrim Max's Marketing (or lack thereof)
As mentioned before, there is virtually no information about the product aside from a cute little sales pitch and the product label. While we like that this is straight forward and doesn't have any hyped up marketing (before and after photos, fabricated testimonials, etc.), we would like to see a little more information about the ingreidents included. Maybe it's just a personal thing. Oh, and their flash based website is kinda annoying.
Dexatrim Max's Price
You can usually find it online for under $20. That's a very inexpensive diet pill, but be warned, you usually get what you pay for (at least when you pay low amounts).
Dexatrim Max's Guarantee
No guarantee
Conclusion
The price is low, but so is the quality factor. The one ingredient that would be effective (green tea) is hidden in a proprietary blend so we don't know much of it is included. As mentioned before, however, the makeup of that blend leads us to believe that there wont be the correct amounts in order to be effective. They also don't have a guarantee. We would be generous to give Dexatrim Max a mediocre review. Look elsewhere if you want to really lose weight.