Fenphedra Review
Fenphedra is a stimulant based diet pill that touts an ingredient profile that you would expect from a quality (stimulant) diet pill. So at first glance, it appears to be just that, an effective weight loss supplement.
This Fenphedra review will look into their ingredients, marketing, price and guarantee to see if it may be the best weight loss supplement for you.
Fenphedra Video Review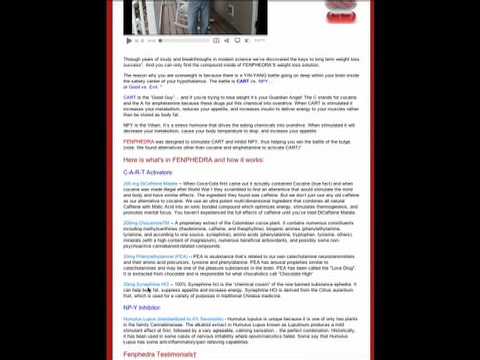 Ingredients
Dicaffeine Malate – You can consider this to be essentially the same as regular caffeine. Caffeine has been proven to aid in weight loss in many studies. It increases energy during workouts as well as increasing the metabolic rate. While those who are sensitive to stimulants such as caffeine should take caution when supplementing with it, caffeine is a proven weight loss ingredient.
Chocamine - A patent pending combination of cocoa and other ingredients. Some of which are apparently stimulants as well. We give chocamine a neutral review for now as there hasn't been enough research on the ingredient to be difinitive.
Phenylethylamine - An alkaloid that works as a neurotransmitter in the brain, Phenethylamine is claimed to help increase the levels of dopamine. Essentially it is meant to help you "feel better," possibly reducing the side effects common to stimulants.
Synephrine HCL – Synephrine is another stimulant that is backed by quite a bit of research that supports its weight loss abilities. It, like caffeine, may have side effects common to stimulants, but it has been shown to be effective in weight loss.
Humulus Lupulus - Is likely included to counteract some of the effects that the stimulants in Fenphedra will create such as the jitters.
The ingredients found in Fenphedra seem to be solid. It is definitely loaded with stimulants so, again, those who may be sensitive should not take this pill. Those who can tolerate it may find that it is an effective diet pill. We also want to note that they have disclosed the full amounts of the ingredients that they've included. This is a rarity in the industry and allows us (and you) to review diet pills much more effectively. Props to Fenphedra.
Fenphedra's Marketing
Their website is basic and provides a decent amount of information on the product. They use some technical story about "CART vs NPY" that I'm not completely sold on, but you can decide for yourself. While their sales copy is a bit "hypey," we've seen much worse. They don't have any fake before and photos and avoid shady marketing such as autoship programs or insanely outrageous claims (although almost all diet pill claims are bit too confident aren't they?).
Fenphedra's Price
$69.99 per bottle. This a little on the more expensive spectrum of diet pills, but most of the pills that are high quality and that disclose their amounts are often in this range. For what you're getting with Fenphedra, this price is probably actually reasonable.
Fephedra's Guarantee
They offer a lifetime money back guarantee on all unopened products. This is one of the better guarantees in the industry. Knowing that they'll always take it back if you don't use it adds some good credibility.
Conclusion
Fenphedra appears to have a pretty good ingredient profile if you're able to handle stimulants. The ingredients are good and they've disclosed the amounts. While their price is a bit more than others, most others wont be effective. Their gaurantee is also fantastic. Fenphedra gets a rare thumbs up.
Tags: weight loss supplements, weight loss supplement, best weight loss supplement, best weight loss supplements