Relacore Review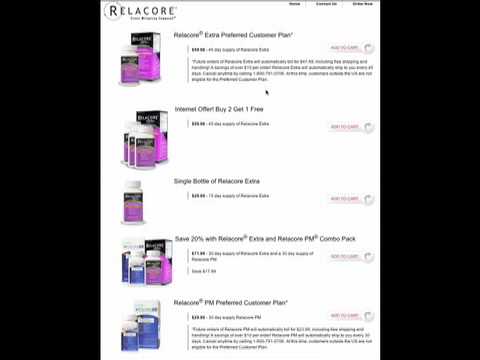 Ingredients
Vitamin C
Calcium
Thiamin
Riboflavin
Vitamin B6
Vitamin B12
Biotin
Pantothenic Acid
Magnesium
Proprietary Blend (265 mg)

Magnolia
Passion Flower
Scutellaria
Niacinamide
Panax Ginseng
Pinellia
Jujuba
Perilla
Phosphotidylserine
Ok, so as it turns out, none of the ingredients in Relacore have been shown to lower cortisol levels (which is their main claim to weight loss). Sound fishy? I thought so to.
Relacore's Marketing
First off, their website provides almost no information about the actual product. They have a sales pitch, but that's about as far as it goes. No ingredients, no guarantee, nothing.

They also have the option (the first option listed of course) to buy into the autoship program which automatically bills you every month and send you a new bottle. These are often extremely difficult cancel and more times than not end in a big, big headache. Thumbs down for Relacore in terms of their marketing.
Relacore's Price
At $59.95 per bottle, Relacore is a complete ripoff.
Relacore's Gaurantee
No guarantee is provided.
Conclusion
The ingredients have not been proven to contribute to weight loss at all. The claims that cortisol causes belly fat itself has not been proven. And the Relacore's ingredients aren't even going to help with that at all anyway. All it is a marketing spin. Don't buy into it. The price is too high and they don't stand behind their product. Two big thumbs down for Relacore. Look at our recommended list to see products with proven ingredients in good amounts at a good price.