SLIMQUICK Hoodia Review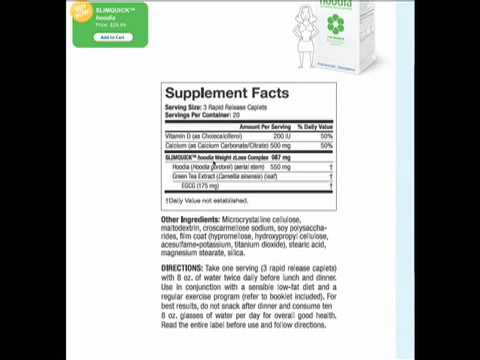 SLIMQUICK Hoodia Ingredients
Vitamin D - Although it's an extremely valuable vitamin, it has zero researching linking it to weight loss.
Calcium – Also not shown to help in weight loss at all (a good overall vitamin however).
Hoodia Gardonii - SLIMQUICK's main ingredient, hoodia, has absolutely no documented scientific research that supports the many claims that it aids in appetite suppression and hence helps you lose weight. Sure, you can find a plethora of websites "quoting" research and results of studies but not one of these actually cites its source nor refers to the actual study. As if simply putting quotation marks around a lie somehow magically adds legitimacy. Unfortunately, there are a lot of people out there who fall for that exact tactic. Hoodia is a fad. A fad that is making its makers' wallets alot heavier and not making you any lighter.
Green Tea - Grean tea is actually one of our favorite ingrediets as it does actually have a large amount of research backing up its claims to help you lose weight. A proven weight loss supplement, green tea is known to increase energy and fat oxidation. SLIMQUICK Hoodia contains a decent amount of green tea, enough to at least have an effect.
SLIMQUICK Hoodia's Marketing
The SLIMQUICK Hoodia webpage is part of the broader SLIMQUICK website. Overall it is a professional looking site that is geared towards a female audience. The information provided, however, is quite minimal with respect to the actual products and ingredients included. They do provide some information on their "SLIMQUICK Program" which basically includes taking SLIMQUICK, eating healthy, exercising, and "staying with it." Pretty revolutionary if you ask me (I hope you caught that sarcasm).
SLIMQUICK Hoodia's Price
$27.79 gets you one bottle of SLIMQUICK Hoodia. Sounds like a deal right? Well since you take 6 capsules a day, you will need 2 bottles to last you one month. That bumps the cost (relative to others that last a month) to over $50. Considering the only ingredient that is contributing to your weight loss is the green tea (which is enough, but it could have more) since hoodia isn't going to do anything for you, this price is way to high for what you're getting.
SLIMQUICK Hoodia Guarantee
They offer a 45 day money back guarantee on all first time offers. We like to see guarantees overs at least 60 days, so SLIMQUICK's doesn't really get us excited. They don't mention if it is just for unopened bottles or for empty ones. Also, they only honor the return if you bought the product directly from SLIMQUICK LABORATORIES.
Conclusion
We find SLIMQUICK Hoodia to be yet another diet pill amongst the hundreds of others that are banking on the popularity of hoodia (which is a worthless ingredient) to sell a product. The short of it is the only worthwhile ingredient (that contributes to weight loss) is 300 mg of green tea. 300 mg may be effective, but you can find other diet pills with alot more green tea (Thermodrenix is one example) and that have other effective ingredients as well. Their price is high for what you are getting and their guarantee isn't the best. Spend a little bit more (or about the same) and get something that is actually worthwhile. Thumbs down for SLIMQUICK Hoodia.