Ultra 90 Review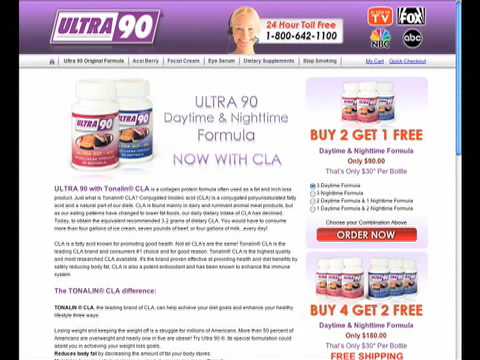 Ultra 90 Ingredients
Marine Collagen Protein
Aloe Vera
Vitamin C
Safflower Oil
Gelatin
Glycerin
Bees Wax
Lecithin
Marine Collagen Protein – Collagen is a natural protein and is the main (and only active) ingredient in Ultra 90. Despite their claims, collagen has yet to be scientifically proven to aid in weight loss at all.
Inactive Ingredients – The rest of the ingredients are labeled as inactive on their website for a reason. While aloe vera, vitamin c, and safflower oil all have their health benefits, few to none of those benefits relate to weight loss. Bees wax is only used for the capsule casings and lecithin has zero research backing its claims to help break down fat.
In addition to having ineffective ingredients, Ultra 90 does not disclose the amounts of any of these ingredients.
Ultra 90's Marketing
Ultra 90 has two "different" formulas, one to use if you take it in the morning ("AM") and the other if you take it in the evening ("PM"). But interestingly enough, the ingredients in each formula are exactly the same. They slap on a different label, recommend that you use both formulas throughout the day, and double their sales. (Their liquid version says "AM & PM Wellness Formula". They must have gotten tired of printing off two labels for the same product.)
So according to the research of the ingredients, Ultra 90 shouldn't work. But that's ok because the directions make up for the rest. The PM formula tells you to quit eating 3 hours before you go to bed. The AM formula tells you to wait 1 hour before eating after you wake up. A lot of people snack and have high caloric intake during those evening hours. So those that may end up losing weight likely do it from consuming less calories when using Ultra 90.
Ultra 90 Guarantee
"We have an all sales are final policy due to the fact that it's a perishable product." Lots of companies offer guarantees even if the product is perishable. Just because they can't resell it doesn't mean they shouldn't stand behind their product. We're not a fan of the "once it's sold, its your problem" mentality.
Ultra 90's Price
One bottle of Ultra 90 is $44.95 and is marked as a "radio special" even though I've never heard their radio ads and found it on the internet. $45 is a lot for this product (as would be $5) but is extremely expensive if you follow their recommendation to use both the AM and PM formulas during the day.
Conclusion
The ingredients in Ultra 90 are either unproven or ineffective and the price is on the high end. No guarantee is a deterrent as well. Overall, it is probably best to look at other options in a diet pill when there is much more effective, and less expensive options.